The 12 best apps of the year by Google, you have to install right away, unfortunately
The 12 best apps of the year by Google, you have to install right away, unfortunately
The 12 best apps of the year by Google, you have to install right away, unfortunately
10:15 - 01/08/2018
Google has announced a list of the 12 best-performing apps of the year.
Google recently announced the annual Google Play Awards list, which included a total of 12 apps and games that were rated the best in the past year. It is known that all the free and paid content appearing in this ranking is based on Google's own criteria.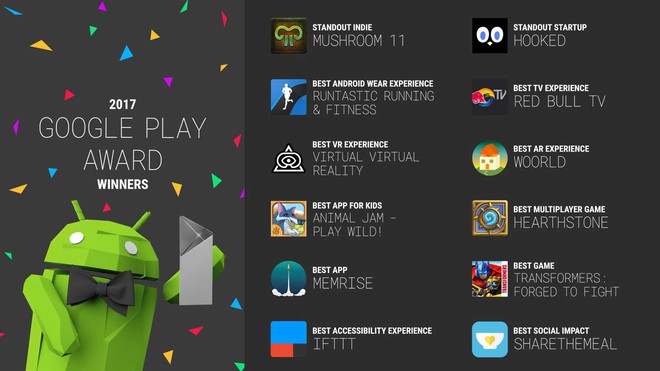 This year, each category has a lot of candidates, and here are the top 12 best-selling categories:
- The best TV experience: Red Bull TV
- Experience the best virtual reality (VR) Virtual Virtual Reality
- Experience the best enhancement (AR): Woorld
- The best Android Wear experience: Runtastic Running & Fitness
- Best app Best app: Memrise
- Best application for children: Animal Jam – Play Wild!
- Best game: Transformers: Forged to Fight
- Best multiplayer game: Hearthstone
- Best Accessibility App: IFTTT
- Emerging Applications (Indie): Mushroom 11
- Startup excels: Hooked